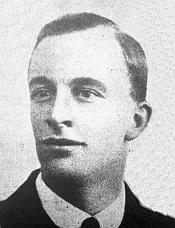 Full Name:
Edward Martin Atha
Date of Birth:
1899
Place of Birth:
Stourton, Leeds
Edward Atha
(1923/24 - 1926/27)
While at Hatfield Road School, St. Albans, Atha played for St. Albans Boys against Northampton Boys in the English Schools Shield. After leaving school he played local football until joining the Army, playing for his battalion for three years at inside-forward. On discharge he helped form an Old Boys' team in St. Albans, playing in the Mid-Herts League for two seasons. Following this he became a member of the St. Albans City club, but failed to receive a trail so joined Spartan League club R.H.C, scoring 30 goals in his second season there.

Joined the club at the start of the 1923/24 season having previously trialled with Brentford, and played mostly in the reserves over the next four season.

Played for St. Albans City against Wimbledon towards then end of the 1927/28 season.
1923/24
: Appearances: 3 - Substitute: 0 - Goals: 0
1924/25
: Appearances: 8 - Substitute: 0 - Goals: 2
1925/26
: Appearances: 7 - Substitute: 0 - Goals: 2
1926/27
: Appearances: 1 - Substitute: 0 - Goals: 0
- Total: Appearances: 19 - Substitute: 0 - Goals: 4
Genealogical Research:
These are research notes and may not relate to the player. Handle with care!

Edward Martin Atha
1911 73 Brampton Road, St Albans
British Army, Royal Fusiliers, Service #GS/69550