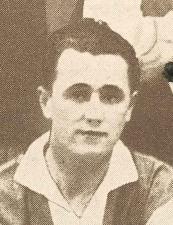 Full Name:
Howard Ellington R Barnes
Date of Birth:
01 March 1909
Place of Birth:
Fulham, London
Date of Death:
28 December 1991
Place of Death:
Winchester, Kent
Howard Barnes
(1930/31 - 1936/37)
Inside-left Howard joined the club at the start of the 1930/31 season, working his way up through the strollers and reserves.

Before making his senior debut later that same season he played one match for St. Albans City reserves, travelling with the Wimbledon team but playing for the opposition, who were one short, and scoring against his colleagues.

He spent most of the 1934/35 season trying his luck at Crystal Palace, where he made one appearance in their first team, before returning to Wimbledon a couple of months before the Amateur Cup final.

"Boogie" Barnes was called up to the the England amateur international team for the match against Scotland at Dulwich Hamlet on 23 March 1935 but, despite playing for the South against the North alongside Bill Charlton in the Amateur International trial in January 1936, it was to prove his only cap, although he travelled to Inverness as reserve for the match against Scotland there in March 1936.

He left Wimbledon at the end of the 1936/37 season to link up with Charlton at Leyton.

He Was unfortunately caught in an air raid while in a café in London in early 1941 and suffered injuries that resulted in the amputation of one leg below the knee.
1930/31
: Appearances: 0 - Substitute: 0 - Goals: 0
1931/32
: Appearances: 0 - Substitute: 0 - Goals: 0
1932/33
: Appearances: 0 - Substitute: 0 - Goals: 0
1934/35
: Appearances: 0 - Substitute: 0 - Goals: 0
1935/36
: Appearances: 0 - Substitute: 0 - Goals: 0
1936/37
: Appearances: 0 - Substitute: 0 - Goals: 0
- Total: Appearances: 0 - Substitute: 0 - Goals: 0
Genealogical Research:
These are research notes and may not relate to the player. Handle with care!

1911 ???
40 Hazelbourne Road Balham
b: Clapham
f: George
m: Stella

1939
Advertising Copy Writer
14 Edenfield Gardens, Worcester Park

Q1 1947
Married Veronica M Simmonds in Holborn